Pancake is a type of caked that is fried with oil or butter rather than baked. It is a thin flat round piece of cake made from plain flour or wheat flour with different ingredients such as milk, whipped cream, butter, salt, honey, maple syrup and so on. It is often served as breakfast or dinner. Pancakes are very delicious and the taste depends on the ingredients and toppings used. This recipe will make it easy for you to make pancakes easily at home.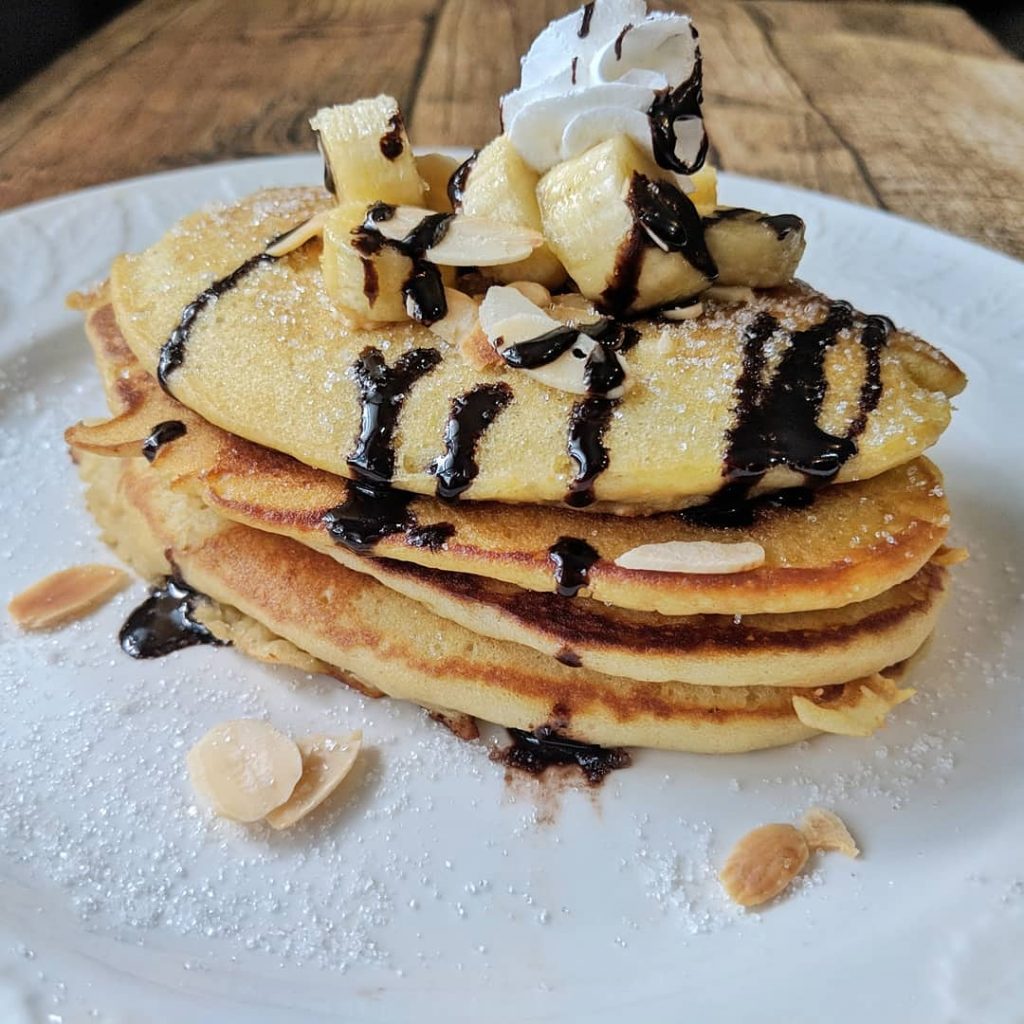 Tools: there are some kitchen utensils you need to make pancakes:
A Cup,
A Ladle (to scoop the batter)
A large and a small bowl (to prepare the batter)
Spatula or a turner (to flip the pancake)
Oven (to keep the pancake warm)
Electric griddle or any griddle or a large skillet (pan for the cooking)
INGREDIENTS
1 cup of flour
2 spoonfuls of sugar
2 teaspoonfuls of baking powder
½ teaspoonful of salt
1 cup of milk
2 spoonfuls of butter or vegetable oil
1 egg
Assorted flavouring additives like maple syrup, honey, chocolate syrup, butter, or jams.
You may also prefer to add mashed banana, chopped walnuts or strawberries depending on your taste.
Recipe for Pancake
Prepare your batter: mix your flour, baking powder, sugar and salt in a large bowl and separately mix the milk, the egg and the butter or oil in a small bowl. Then pour the second mixture into the first and stir gently until everything has harmonized. Do not overmix the batter. The batter should have some lumps to be fluffy.
Preheat your griddle or skillet. It is important to preheat the pan because pancakes need instant heat to rise and form a good shape. Then grease or moisten the griddle with oil. Use a clean towel or piece of cloth moistened with oil to moisten the griddle.
Scoop or spoon the batter onto the griddle with a ladle or spoon. If you use a spoon, you will need to use the spoon to shape the batter into a round shape. You can put two or three rounds into the griddle at the same time.
Cook for 1 to 3 minutes until bubbles begin to form and some bubbles have burst.
Add assorted toppings such as maple syrup, honey, chocolate syrup, butter, or jams, nuts or fruits.
Flip with a spatula carefully to avoid breaking. Allow the other side to cook for about 2 minutes and form a brown colour.
Put the pancakes in a baking sheet or platter, cover them with foil and place them in an oven to keep them warm while you continue with the remaining batter. You may just serve immediately and not put them into an oven.
THERE ARE DIFFERENT TYPES OF PANCAKES:
Buttermilk: for buttermilk pancake use buttermilk instead of milk.
Yoghurt: for yoghurt pancake, reduce the milk to ¼ cup and add ¾ cup of yoghurt.
Eating the pancake
Pancakes can be eaten one apiece, that is one at a time. It can also be eaten as a pile or stacks with assorted toppings added in between each stack. You may stack or pile two or three pancakes one on top of the other and add toppings, then add another pile and add toppings.