Kicking off our WaraCake series to help the amateur baker in the city of Lagos (and Nigeria at large), we are opting for a simple red velvet cake recipe.
Red velvet cakes are a delicious alternative to chocolate cakes. Plus, they don't dry out easily. They stay moist and yummy for the most part and generally last longer. So, if you are considering a cake to bake in advance, but still maintains its freshness, this is it!
Ingredients can easily be sourced at your local bake shop, so, GO FOR IT!  It's easier than you think.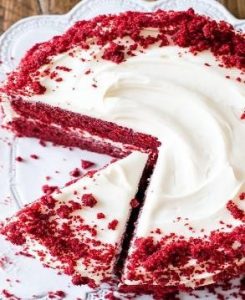 Source: sallysbakingaddiction.com
WHAT YOU NEED:
Dry Ingredients
2 2/3 cups plain cake flour
2 tbsp cocoa powder, unsweetened
1 tsp baking soda
Pinch of salt
Wet Ingredients
1/2 cup unsalted butter
1 1/2 cups white sugar
2 eggs
1 cup vegetable oil
1 tea spoon white vinegar
2 tea spoon vanilla extract
1 cup buttermilk
2 1/2 table spoon red food colouring
DIRECTIONS:
Preheat oven to 180 Celsius.
Butter round the sides and base of your cake pans and trays to ensure easy removal after baking. You'll be glad you did this.
Combine all the dry ingredients in a big enough bowl. Ensure you sift ingredients properly.
Place butter and sugar in a bowl and beat well with an electric mixer until smooth.
Slowly beats eggs into mix one at a time and keep going until smooth.
Add vegetable oil, vinegar, vanilla, buttermilk and red food colouring. Beat until smooth.
Add dry Ingredients to the mix of wet ingredients.
Divide batter into cake pans or trays.
Bake for 30-45 minutes.
To be sure your cake is ready, insert a toothpick in the centre. If it comes out clean, you are good to go.
Leave cake to rest in the pan for about 10 minutes before taking it out.
Place on a rack and leave to cool.
Lock the doors and enjoy your yummy goodness!!