Hello everyone! I bet we all hate it when we can't figure out what to prepare for lunch, either for guests or family. Making lunch doesn't always have to involve so much thinking when you have guests or family around and you need to prepare something tasty for everyone. There are various quick and easy lunch recipes you can use, and we'll take you through one of them. It promises to be delicious. If you want to leave your guests and family wanting more of a meal you didn't have to stress over, then keep reading. An easy and delicious recipe suitable for lunch is the loved 'Pasta and Shrimp Sauce'.
INGREDIENTS:
8 ounces of pasta (slim)
1 pound medium shrimp, peeled and deveined
4 cloves garlic, minced
1/2 teaspoon dried oregano
1/2 teaspoon crushed red pepper flakes
2 cups baby arugula
Salt and freshly ground black pepper, to taste
8 tablespoons unsalted butter, divided
1/4 cup freshly grated Parmesan
Parsley leaves (optional)
INSTRUCTIONS:
In a pot of boiling, salted water; cook pasta according to package instructions and drain well.
Season shrimp with salt and pepper, to taste then set aside.
Melt 2 tablespoons of butter in a large frying pan over medium high heat. Add garlic, oregano and red pepper flakes, and cook. Keep stirring for about 1-2 minutes, until fragrant.
Add shrimp and cook, stirring occasionally, for about 2-3 minutes until pink; then set aside.
Melt remaining 6 tablespoons butter in the frying pan. Stir in cooked pasta, arugula and Parmesan for about 2 minutes, until arugula begins to wilt. Stir in shrimp.
Sprinkle some chopped in parsley leaves on meal if you wish.
Serve immediately.
Now that your delicious meal is served, enjoy hearing complements about your good cooking. Also, remember that we've got your back at
https://waracake.com
if you want to give yourself, your family or guests a delicious treat. You can order this meal below by clicking
here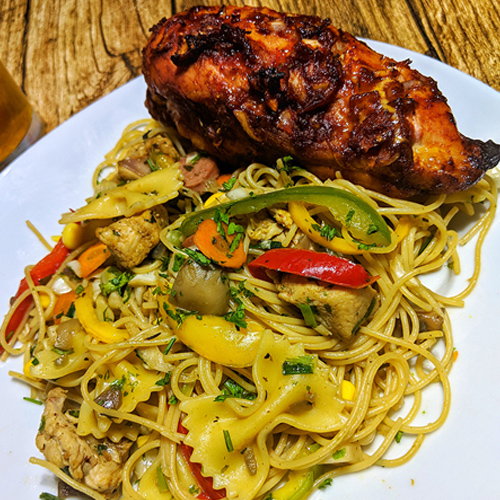 See you soon,
ciao!