Christmas is our favourite time of the year, which is we are sharing our moist and easy Christmas fruit cake recipe. There is love in the air, gifts to share and most importantly – food! One of which is the traditional fruit cake. It is filled with nuts, fruits, laced with alcohol and very moist!
We have a boiling recipe you must try and we are sure you will love. It is sure to change how you think about fruitcakes and we are certain you will love it. Follow this recipe for an 8 inch fruit cake. Enjoy!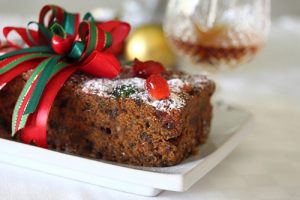 Source: http://rasamalaysia.com
Prep
You will need an 8-inch round cake tin, parchment paper, measuring cups, oven, cooker, mixer and bowls.
Preparation time – 20 minutes.
Cooking time – 60 to 90 minutes
Ingredients
1kg mixed dried fruit (raisin, cherries, currants and whatever fruits you would like)
1 orange
1 lemon
150ml brandy or whisky
250g butter, softened
200g light brown sugar
175g all-purpose flour
100g ground almond
½ tsp baking powder
2 tsp mixed spice
1 tsp ground cinnamon
¼ tsp ground cloves
100g flaked almond
4 large eggs
1 tsp vanilla extract
Method
Preheat oven to 150C.
Line the cake tin with a double layer of baking parchment paper.
Extract the juice and zest from the orange and lemon.
Put the dried fruit, zests and juice, alcohol, butter and sugar in a large pan set over a medium heat on your cooker.
Once boiled, lower the heat and leave to simmer for 3 minutes.
Allow to cool to room temperature.
After cooling, add the remaining ingredients and stir well.
Pour the mix into the tin and place in the oven.
Remove the cake from the oven, poke holes in it with a fork and pour 2 tablespoons of your chosen alcohol.
Leave the cake to cool completely in the tin.
We hope you enjoy it. Have a very Merry Christmas.