Welcome back, here is My Experience with Cake Delivery in Lagos, Nigeria 2 !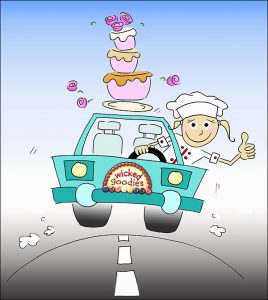 Source: http://blog.bakingit.com
Just before a much needed spa treatment, I contacted the cake shop in Lagos. A really nice lady picked up the phone, took my order and my home address. They had excellent customer service, A HUGE PLUS FOR SURE! I had no problems with their pay before delivery policy. I was just glad my day was taking a turn for the better.
My spa treatment felt a lot better as I was anticipating my cake delivery for 5pm. Also, a very quiet house and a bottle of my finest wine. I got in my car and headed home. My phone's battery was low and my charger wasn't with me. But, I was positive I would make it home in time. Boy was I wrong!
Lagos traffic hit me HARD in the face! A trailer had fallen over on its side and was blocking vehicular movement on the express. I was in too deep without a means of escape. My phone was dead before I could reach the cake shop to cancel or move my delivery. I was distraught.
An extra two hours was spent in traffic. I had heard enough about delivery companies in Lagos to know that no one was willing to wait that long with no means of communication. I knew I had lost my money, cake and time. My day really couldn't get any worse.
I got home and heard a knock on my door a few minutes later. There was a very apologetic delivery man at my doorstep. He had been stuck in traffic due to a collapsed trailer and he was sorry my cake came in so late. He had tried to contact me but my number was unavailable. To compensate me, he gave me an additional box of 12 cupcakes and a coupon for my next purchase in their store. I couldn't believe my luck.
As a proper Nigerian woman, I said nothing about being stuck in the same traffic or that I had recently just gotten home myself. I grabbed my cakes, gave him a tip and had the best weekend in a very long time. Turns out my cake delivery experience in Lagos was not so bad afterall.
Remember, whatever occasion it is, we have your back. We offer cakes for your birthdays, weddings, inductions, convocations, anniversaries, name it! That's what we do. Place an order today on www.waracake.com/shop or call 08146274960/08182359903 and you will be glad you did.