Ice cream cakes are AMAZING so we are discussing how to make an ice cream cake for birthday parties! It is cake and ice cream in one; what's not to love? They can be made ahead of time and as simple or as fancy as you please. Ingredients can be made from scratch or bought at the store and coupled together. It all depends on you. Whatever you chose, they appeal to anyone at any event. We repeat, AMAZING!!!
Making an ice cream cake is not a lot of work. It is actually easier than baking a normal cake especially if you are making use of store bought ingredients. Although it is time consuming if you make it from scratch, we do not entirely discourage this. Individual preferences differ, and some people just like things done a particular way. If you are one of those people, we recommend you start a day or two earlier.
You will need wax or parchment paper, baking sheet, hand mixer, spatula, piping bag, round cake platter a knife and a freezer.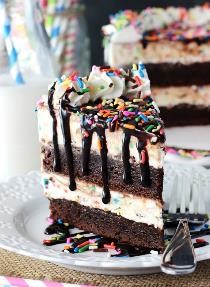 Source: lifeloveandsugar.com
Ingredients
Pound cake (homemade or store bought)
1 cup of slightly softened vanilla ice cream (homemade or store bought)
1 cup slightly softened chocolate ice cream (homemade or store bought)
Cup of slightly softened chocolate chip ice cream (homemade or store bought)
2 1/2 cups roughly crushed chocolate cookies
2 cups chocolate fudge sauce
Directions
Set up your pan and lay a sheet of parchment or wax paper on a baking sheet
Whip the vanilla ice cream with a mixer for about 2 minutes, or until fluffy.
Pour the whipped ice cream into the pan. Ensure it is evenly spread on the sides and the bottom in a thick layer.
Slice the pound cake horizontally into 3 pieces. Place the first slice in a loaf tin lined with plastic wrap.
Spread a thick even layer of crushed cookies over the sliced pound cake.
Pour warm fudge sauce over the cookies.
Place the last layer of cake on top, followed by the chocolate chip ice cream.
Create the chocolate ice cream layer and spread over the warm fudge layer, same way you did for the vanilla ice cream.
Cover the top with parchment paper and freeze overnight or until completely solid.
Peel away the top layer of parchment paper. Gently flip the whole cake over, so that it ends up on the plate with the chocolate layer on the bottom and the vanilla cake on top.
Use an offset spatula to spread the whipped cream all over the cake. If desired, use a piping bag to create rosettes or other decorations.
Add sprinkles and decorate the cake as you wish.
At this point, the cake can be eaten, but it will melt quickly. It's best to return it to the freezer, overnight if possible.
Try this recipe out and see just how well it works for you. Whichever occasion you've got, we got your back. We have cakes that suit your birthdays, weddings, inductions, convocations, anniversaries, name it! That's what we do. Place an order today on www.waracake.com/shop or call 08146274960/08182359903 and you will be glad you did.