As you know, we absolutely LOVE cake. Honestly, chocolate cake is one of the best inventions on planet earth; rich, moist and absolutely amazing. It is also surprisingly easy to make. EXCITED?
Is it your birthday soon or that of a loved one? Do you want to surprise the family with some homemade goodness? Then we have the perfect recipe for you.
It's simple and delicious with ingredients you can purchase at your local supermarket or cake store near you. Why not try it out?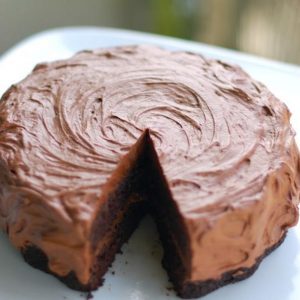 Source: pinchofyum.com
INGREDIENTS
2 cups all-purpose flour
2 cups sugar
¾ cup unsweetened cocoa powder
2 teaspoons baking powder
1½ teaspoons baking soda
1 teaspoon salt
1 cup milk
½ cup vegetable or melted coconut oil
2 large eggs
2 teaspoons vanilla extract
1 cup boiling water
White, plain or milk chocolate bars broken into squares
3 cups heavy cream
METHOD
For the cake
Preheat the oven to 350 degrees F.
Grease and dust cake pans.
In a mixing bowl, combine the dry ingredients – flour, sugar and salt.
Melt the butter in a different pan and add the cocoa powder. Stir properly.
Add the boiling water to the mix.
Pour over the flour mixture and stir lightly to cool.
In another bowl, combine the milk, baking soda, baking powder, vanilla extract and beaten eggs.
Stir the milk mixture into the melted butter/chocolate mixture.
Pour the batter into the cake pan and bake for 35 minutes.
Cool completely before icing. Refrigerate the layers after cooling for best results
For the frosting
Heat the cream until hot and pour in the chocolate pieces.
Stir until it melts completely.
Refrigerate to cool.
Once the mix cools, add the vanilla extract and beat with an electric mixer until light and airy.
Frost the cake in between each layer, on the top and around the sides.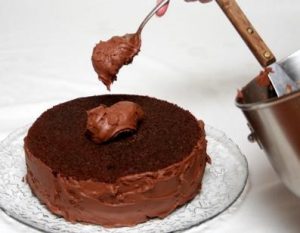 Source: myhomecooking.net
ENJOY!!!