It's Wedding Season!!! Are you planning a bachelorette party for a loved one? Do you have absolutely no idea what you need or where to start from? That's why you have us!
Bachelorette parties should reflect the interests of the bride as they're fun, exciting and everyone looks forward to them. It's a lot of pressure to deliver when you're the one in charge. DO NOT PANIC!
Today, we're bringing you a guide to planning a memorable party; highlighting your basic necessities, so everyone can have a good time. Whoop Whoop!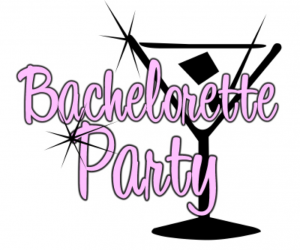 Source – 2heartsweddings.net
 Here is a checklist of the essentials you need to make the bride's party one to remember –
PICK A DATE AND BUDGET
One quick piece of advice – do not pick the night before the wedding. You do not want a tired and hungover bride at her own wedding. She will resent you in the future when her wedding pictures are out and she looks scruffy. We suggest two or three days before the D-day.
Also, an estimated budget determines the party location and what activities to include or take out of the plan. You can discuss this with the other guests as contributions are welcome.
GUEST LIST
This is the part you would probably like to involve the bride. Unless it's a surprise party, you want to confirm who she wants at her party and who she'd rather not have there.
Send invites to the guests and let them know what the plans are. Ensure that guests officially RSVP and start to plan accordingly. Be sure to let them know what the theme of the party is.
Keep your list small and manageable; anything from 10-20 people is fine.
MAKE RESERVATIONS
One of the reasons why bachelorette parties don't turn out as planned is because calls were not made on time. Do not leave everything to the last minute. You do not want to find out that the hotel rooms have been booked or there are no VIP tables available at the club or restaurant.
Make inquiries and book everything in advance. You'll save yourself a whole lot of stress.
CREATE AN ITINERARY
Create a detailed schedule and include as many fun activities as you can. There is a variety of options to consider like – a wine-tasting event, karaoke, a weekend getaway or a night out in town. Remember to take into consideration your bride and her guests.
If you need help with this, suggestions from her friends and family might come in handy.
HAVE A BLAST!
Plan it all the way you should and this won't be a problem. Ensure you have food, drinks, music and lots of fun games and activities for everyone.
It really is just a bachelorette party, and the aim is to have tons of fun. Don't be left out!